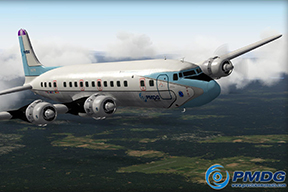 PMDG has officially announced the Douglas DC-6 as their entry product into the X-Plane simulation world.
Robert Randazzo of PMDG states:
"The PMDG Classics DC-6B is the lead off product in a new breed of products for PMDG that will bring some "old school" aviation to our product lines for Xplane, FSX and Prepar3D. This product will drop for XPlane first- but shortly after will release for FSX and Prepar3D as well- making it the first PMDG product to appear on three different simulation platforms."
A topic of discussion can be found here at X-Pilot.
The original posting from PMDG may be found on their Facebook page.